Nächstes Konzert:
Jo Carley and the Old Dry Skulls [UK]
Do., 27.04.23 | 20.00h | 15,- €
Happy Billiard * Kurt-A.-Körber-Chaussee 73 * 21033 HH-Bergedorf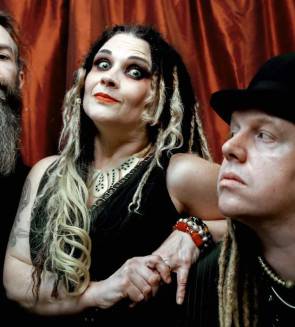 Die Dunkle Magie hat seinen Weg an die britischen Küsten gefunden und die Welt von Jo Carley und den Old Dry Skulls ist dunkel, lebhaft und dem Subversiven gewidmet. Sie versuchen das Publikum zu amüsieren und in eine makabre Unterwelt voller Wunder und Fantasie zu entführen. Dieses Trio spielt eine einzigartige Mischung aus Early Musik des 20. Jahrhunderts mit düsterem Kabarett. Hierfür kombinieren sie die Voodoo-Rhythmen des Ska & Blues der 1930er Jahre mit Elementen aus Old-Time-Country, Skiffle, Calypso, frühen Horrorfilmen & Vaudeville. So spielt dieses Trio seine einzigartige Mischung , durchdrungen von Finsternis, von düsterem wie höchst unterhaltsamem Kabarett: I ll Put My Voodoo On You – es schlottern die Knie, Entspannung zieht durch Mark & Bein.
Voodoo hat seinen Weg an die britischen Küsten gefunden und Jo Carley ist die Voodoo-Königin, die geschickt wurde, um die Hölle zu prophezeien, um euch zu unterhalten und zu überraschen. Diese dämonische Music-Hall-Herrin erzählt auf altmodische Weise Schreckensgeschichten. Sie wird von ihrem Songschreiber-Partner und Ehemann Tim Carley unterstützt, einem Mann von beträchtlicher Größe, der "synkopische Rhythmen spielt, um deine Seele zu erschüttern" auf einer abgenutzten Archtop-Gitarre, Kickdrum und Schellenschuh, mit Freund und Mitstreiter James Le Huray,der die letzten Zutaten des Zaubers in Form von Kontrabass und Banjo liefert.
TICKETS:
natürlich an der Abendkasse
Ticket Shop Bergedorfer Zeitung
Video