The Widowbirds (AUS)
Do., 19.11.15 | 20.30h |
Happy Billard - Kurt-A.-Körber-Chaussee 73, 21033 HH-Bergedorf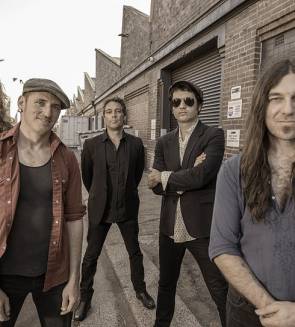 Zuhause in Sidney spielten THE WIDOWBIRDS zwei Mal mit Bon Jovi vor 38 000 Menschen. Im Happy Billard werden es voraussichtlich nicht ganz so viele werden. Dennoch werden Besucher von den Livequalitäten der Newcomer aus Down Under überzeugt sein. Sie spielen eine groovige Rock-Melange, die viel vom Sound der Endsechziger und Frühsiebziger in sich aufgesogen hat.
Alle fünf Musiker beherrschen ihr Metier. Der Fokus wird auf die Musik gelegt. Fans von Frankie Miller, Free oder Humble Pie kommen bei Ohrwürmern wie "Dust And Stone" oder "Rumble In The Alley" voll auf ihre Kosten - und auch The Black Crowes dürften als artverwandte Band einigermaßen passen.
Frontmann Simon Meli und Tony Kvesic, sein Songwriting-Partner an der Gitarre, wirken schon optisch aus der Zeit gefallen. Der eine im Hippie-Look mit langer Matte, der andere modisch ganz Mod, mit Klamotten und Boots, die aus dem Swinging London der Sixties stammen könnten.
Auch ihre Musik ist fest in jenen Jahren verankert. Ihr energetischer Rock hangelt sich zwar am Soul und Blues entlang, hatte aber auch viel relaxten Westcoast-Sound und groovigen Southern-Rock in sich aufgesogen. Vor allem bei den wenigen ruhigen Titeln im Set, wie der wunderbaren Ballade "My Time", schaffen THE WIDOWBIRDS besondere musikalische Momente, was nicht zuletzt am emotionalen Vortrag des charismatischen Frontmannes liegt.