Warner E. Hodges Band [USA]
Do., 01.06.23 | 20.00h |
Happy Billiard * Kurt-A.-Körber-Chaussee 73 * 21033 HH-Bergedorf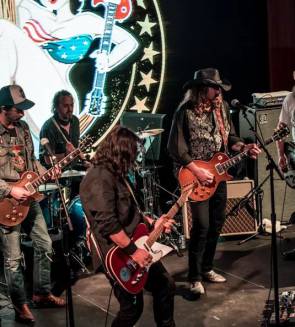 Warner E. Hodges ist seit vielen Jahren Mitglied von Dan Baird's Homemade Sin und ein richtiger Gitarrenderwisch. Er kam von Jason & the Scorchers und wenn die ab und zu noch auftreten, spielt er auch dort mit. Daneben verfolgt er auch eine Solokarriere.
Geboren wurde Warner in Würzburg, wo seine Eltern bei der Army dienten Beide Eltern machten Musik und nachdem die Familie in die Staaten, nach Nashville zurückkehrten, fand sich Warner plötzlich am Schlagzeug der elterlichen Band wieder. Als er 1973 3in AC/DC Konzert sah, wollte er aber unbedingt Gitarre spielen. Da zu dieser Zeit die Punk-Welle die Staaten erreicht hatte, sah er seine Berufung zuerst in dieser Richtung.
Später traf er dann den Country-Punker Jason Ringenberg und wurde Mitglied der Scorchers. 2009 kam dann der Wechsel zu Dan Baird. Zusammen mit Dan Baird gründete Warner 2011 dann die Band The Bluefields, die seither auch bereits 3 Alben veröffentlichte.
Der "very busy man" verfolgt daneben auch noch eine Solokarriere, aus der jetzt das neue Album resultierte. Es ist auch bereits sein drittes Soloalbum, aber mit abstand sein bestes.
Mit dabei sind einige seiner Weggefährten wie Dan Baird, Joe Blanton von den Bluesfields, Elizabeth Cook und Jerry Dale McFadden, der exzentrische Keyboarder der Mavericks.
Und das Album tönt einfach so, wie es tönen muss, wenn sich diese Kaliber im Studio treffen. Da wird in bester Southern-Rock-Traditon in die Saiten und Tasten gehauen, dass es eine wahre Freude ist.
https://www.warnerehodges.com/
TICKETS:
natürlich an der Abendkasse