The Blooze
Do., 16.01.14 | 20.30h |
Happy Billard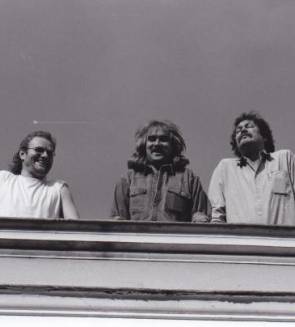 Uli Wissmann (g, voc), Jürgen Schultze (b) und Robby Schön (dr): - in der Hamburger Und Celler Musikszene bekannt durch Zusammenarbeit u.a. mit Abi Wallenstein, Audrey Motaung, Jule Neigel Band und Lars Luis Linek – seit einem Jahr zu einem Trio vereint, das sich ganz und gar dem Blues verschrieben hat.
Polarisierende Bluesnummern von z.B. Robben Ford und J.J.Cale, Klassiker alter Blueslegenden wie B.B.King, Eric Clapton oder Stevie Ray Vaughan, sowie einige ausdrucksstarke Eigenkompositionen werden mit Drive und leidenschaftlicher Spielfreude dargeboten.
Das pulsierende Rhytmusgespann groovt souverän durch swingende Shuffles und druckvolle Rocknummern wie "Mustang Sally" oder "For your love", und wird überzeugend ergänzt durch Gitarre und Gesang: Feinfühlig jazzig in "Ain´t got nothing but the blues" und "Start it up", bluesig-rau in "Pride and joy" und "Before you accuse me", kraftvoll und expressiv in "Purple Haze" und "Voodo Child" von Jimi Hendrix.