Neal Black & the Healers [USA]
Do., 11.04.19 | 20.30h |
Happy Billard * Kurt-A.-Körber-Chaussee 73 *21033 Hamburg Bergedorf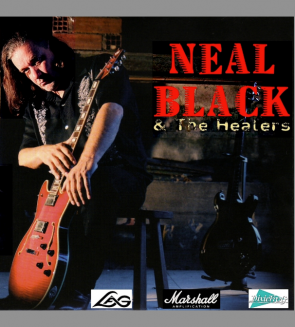 Neal Black ist Sänger, Songwriter, Gitarrist und Produzent. Seit 25 Jahren begeistert er das Publikum auf der ganzen Welt und spielte sich den Titel "Master Of The High Voltage Texas Boogie" ein. Der Vollblutmusiker aus San Antonio, Texas, wird von der Fachpresse als einer der wichtigsten amerikanischen Blues-Rock-Musiker der Gegenwart bezeichnet.
Er hat seinen ureigensten Gitarren-Stil entwickelt und seine Stimme klingt wie eine Mischung aus Tom Waits und Howling Wolf. Seine Shows zeichnen sich durch Wärme, Atmosphäre, Aufrichtigkeit und vor allem durch Klasse aus. Neal Black spielt und singt tief aus seiner Seele heraus. "A soul so lonesome like a crow on a telephone pole alongside a dusty highway"...
Neal Black war regelmäßig zu finden auf den großen Bühnen in Texas zum Beispiel im Vorprogramm von: Stevie Ray Vaughan, Albert King, Fabulous Thunderbirds, Omar & The Howlers, Johnny Copeland, George Thorogood oder Leon Russell. Weitere Highlights waren Auftritte mit Paul Butterfield, Albert King, Stephen Stills, The Blues Brothers Band, Duke Robillard und vielen anderen.
Heute feiert Neal Black Erfolge mit seiner Power-Band The Healers. Mit Kris Jefferson am Bass, Vincent Daune an den Drums und Mike Latrell an den Tasten, die schon mit Künstlern wie Popa Chubby, Luther und Bernard Allison gearbeitet haben, umgibt er sich mit Spitzenmusikern der Szene.
Neal Black trat in mehr als 20 Ländern auf mythischen Bühnen auf wie The Montreal International Jazz Festival, dem 20. Jahrestag von Woodstock (New York), dem Montreux Jazz Festival (Schweiz), dem River Blues Festival (Philadelphia), dem New Orleans Festival (Deutschland), bei Bragodya Blues (Norwegen) und Blues Cahors (Frankreich) etc.
Ticket Reservierung unter : info[at]clubamdonnerstag.com oder
bestellen bei Konzertkasse Schumacher:
Tickets : https://www.tk-schumacher.de/events/club-am-donnerstag/club-am-donnerstag