Toby Beard [AUS]
- Zusatzkonzert -
Do., 13.09.18 | 20.30h |
Happy Billard * Kurt-A.-Körber-Chaussee 73 *21033 Hamburg Bergedorf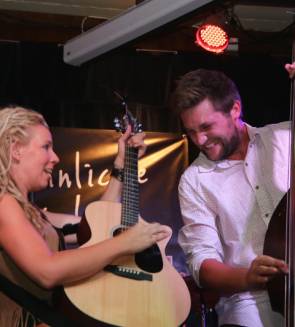 Da an Himmelfahrt , wegen des Hochwasssers in Bergedorf, viele nicht kommen konnten, gibt es noch ein Zusatzkonzert , sozusagen ein " After the Flood Concert ". ...... Dann haben alle die Chance sie nochmal zu Hören und zu sehen .
TOBY
Eine charismatische Ausnahmekünstlerin mit einer unverkennbaren Stimme - kraftvoll, warm und ausdrucksstark. Ihre Musik ist sowohl im Roots / Folk als auch im Rock oder Pop zu Hause. Jazz- und Latin - Liebhaber fühlen sich ebenso bei ihr aufgehoben wie Soul- und Bluesfans. Und selbst sanfte Reggae Einlagen sind nicht ungewöhnlich.
TOBYs Shows sind energiegeladen, zutiefst emotional und leidenschaftlich – gleichzeitig aber auch fröhlich. Tanzgarantie inklusive! Und natürlich bezaubert sie immer wieder mit ihrem hinreissenden Lächeln. Die Chemie zwischen ihr und dem Publikum stimmt und macht jede Show so einzigartig und unvorhersehbar. Ehrlich, rau, lebhaft, ungezähmt – das ist TOBY!

In der Vergangenheit spielte sie auf Festivals bereits neben Stevie Wonder, Alicia Keys, Blondie und Xavier Rudd und zusammen mit Etta James.
Sie bestritt das Vorprogramm von Sheryl Crow, John Mellencamp, Paul Kelly, Brandy, The Indigo Girls, Luka Bloom, Pete Murray und dem John Butler Trio.
https://www.facebook.com/tobybeardmusic


Tickets: