The Revolutionaires [UK]
Do., 26.04.18 | 20.30h |
Happy Billard * Kurt-A.-Koerber-Chausse 73 * 21033 HH-Bergedorf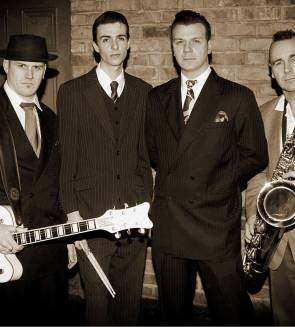 Super, dass sie wieder bei uns spielen! Zum wiederholten Male im Club am Donnerstag
Die Revolutionaires bestehen aus: Ed Stephenson (Guitar/Lead Vocals), Rich Stephenson (Double Base/Backing Vocals), Gary Hoole (Saxophone/Backing Vocals), Mark Matthews (Drums/Backing Vocals).
Ihr grundlegender Einfluß ist 1940's und 1950's R&B. Um es genauer zu sagen, Louis Jordan, Little Richard, Chuck Berry and Roy Brown, aber mit einem härteren und aggressiverem Herangehen ähnlich wie moderne Blues-Künstler wie SRV oder Mike Henderson. Sie haben sich in den letzten Jahren sowohl im Rock'n'Roll-Zirkus als auch in der Blues-Szene etabliert, und gespielt mit Walter Trout, und auf dem Kölner Blues Festival, dem Summer Jamboree in Senegallia (Italien) und auf dem Rhythm Riot Festival.
Sie tourten extensiv im In- und Ausland, traten auf Festivals in France, Germany, Norway, Denmark, Italy, Spain, Malta und Dubai auf. Ihr Motto: "We'll be rockin' up a storm tonight!"