Mojo Makers
Do., 20.02.14 | 20.30h |
Happy Billard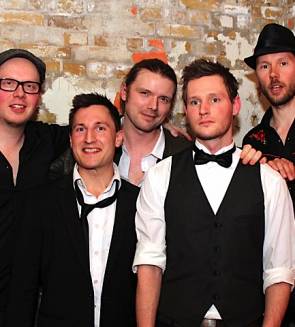 Die Mojo Makers sind DIE junge Bluesentdeckung aus Dänemark. Sie vereinen den Klang und die Inspiration der alten Bluesmasters mit tiefstem 70er Soul, R´n´B und Rock. Die Mojo Makers überschreiten die Grenzen der Genres mit einem soliden Hard Rock Rhythmus, aber nie so weit, dass es befremdlich wirkt.
Obwohl der charismatischen Leadsänger und Gitarrist Kasper Osman in Dänemark geboren und aufgewachsen ist, klingt er nach einem schwarzen Sänger aus der Blues-Szene der US Westküste. Der Ausnahmegitarrist Gitarrist Kristian Hoffmann ist die zweite außergewöhnliche Säule der Band. Schon früh wurde das junge Wunderkind in der renommierten Mojo Blues Bar in Kopenhagen entdeckt. Er spielte als Sideman und Gastmusiker für eine Vielzahl von bekannten Blues-Musikern in Dänemark, die sein Talent erkannten und ihn förderten.
Ganz deutlich spürt man diesem außergewöhnlichen Debütalbum die tiefen Wurzeln des 70er Jahre Bluesrock an, die Verneigung vor Bands wie THE DOORS oder FREE ist offensichtlich, aber Mojo Makers gelingt das Kunststück, diesen Sound transparent zu übertragen und mit ihrem eigenen Stil zu versehen.
Der kristallklare Sound des Albums unterstreicht diesen Effekt, tiefe Bässe, wuchtige Gitarren – die sich zeitweilig gegenseitig Solis zu werfen – die tiefe Soul/Bluesstimme, die eines Jim Morrison würdig ist, untermauert mit einem sagenhaften Sound einer Wurlitzer, Hammond Orgel.
Mojo Makers legen zu Recht mit ihrem Debütalbum die Messlatte hoch und können ohne Problem an die Talente junger britischer oder amerikanischer Bluesausnahmetalente wie THE BREW oder JONNY LANG anknüpfen.
Mojo Makers machen sich auf, den Blues neu zu beleben und greifen dabei tief in die Blütezeit des Bluesrocks der 70er Jahre, klingen aber nicht verstaubt, sondern haben jetzt schon die zeitlose Note. Eine junge Ausnahmeband in Genre Blues Rock, deren Musiker das Talent und das Können haben, es nach ganz oben zu schaffen.