Hymn For Her [USA]
Do., 11.08.16 | 20.30h |
Happy Billard * Kurt A. KoerberChaussee 73 * 21033 H- BergedorfH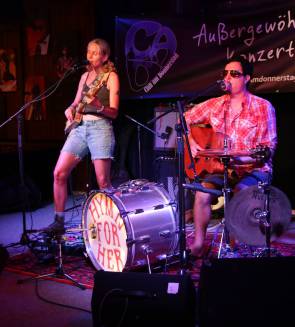 Zum Auftakt im August kommen alte Bekannte zu uns. HYMN FOR HER hat uns schon letztes Jahr begeistert und mit ihrem schrägen Sound überrascht.
"Hells Angels meet The Amish"
beschreibt den Sound der Band ganz gut. Das Duo rockt und bluest mit ungewöhnlicher Instrumentierung in wunderbarer Muddy Roots / Hillbilly Tradition.
Internet: www.hymnforher.com
Das US-Duo Hymn For Her spielt eine infizierende Mischung aus Country-Blues und Desert-Rock, die die beiden Musiker gerne als "Hells Angels treffen auf The Amish" beschreibt, der Verweise auf Captain Beefheart, John Spencer Blues Explosion oder The Ramones zulässt.
In Amerika touren und leben Lucy Tight und Wayne Waxing in einem 1961er Bambi Airstream, einem dieser spacigen eiförmigen amerikanischen Wohnwagen. Ihr letztes Album "Lucy and Wayne and The Amairican Stream" wurde sogar in dem Kult-Mobil aufgenommen.
Dazu kommt eine interessante Instrumentierung: während Wayne Waxing mit Bass-Drum, Hi-Hat, akustische Gitarre und Banjo das Grundgerüst des Sounds vorgibt, fügt Lucy mit ihrer selbst gemachten Zigarrenschachtel-Gitarre stampfende Riffs dazu. Tolle Musik, die gleichzeitig interessant anzusehen ist.