John Blek & The Rats [IRL]
Do., 09.04.15 | 21.00h |
Happy Billard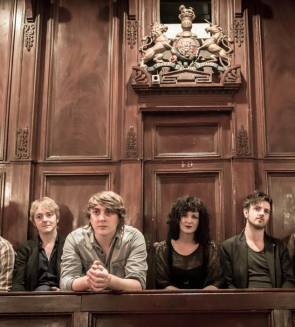 Da kann es auf unserer Bühne schon mal eng werden: Fünf Rats hat John Blek dabei und spielt mit ihnen wunderbaren Folk und Outlaw-Contry à la Mumford and Sons oder Avett Brothers. Melancholisch, aufrührerisch, ansteckend. Nach zahlreichen Auftritten in ihrer Heimat Irland (u. a. beim Kilkenny Roots Festival), in England und auf dem Kontinent haben wir diese tolle Liveband im April erstmalig bei uns im Club am Donnerstag.
Cork ist die zweitgrößte Stadt Irlands und die heimliche Kulturhauptstadt der Insel. Unter anderem die Heimat von Rory Gallagher oder dem großartigen Mick Flannery. Auch die sechsköpfige Formation John Blek & The Rats kommt aus Cork und hat sich inzwischen in die Herzen des Publikums gespielt. Der Sound der Band, eine infizierende Mischung aus Folk, Country und Americana, ist inspiriert von einer ganzen Bandbreite an musikalischen Stilen und Künstlern: Dem Outlaw Country eines Willy Nelson, den Protestsongs von Woody Guthrie, der messerscharfen Lyrik eines Jack Keruoac oder Neil Youngs melodischem Country-Rock. Daraus kreieren die Musikereinen frischen und modernen Sound, der gleichzeitig vor den alten Helden den Hut zieht. Der Melancholie ihrer Lieder setzen sie stampfende Rhythmen und ansteckende Refrains entgegen. Heraus kommen wunderschöne Songs, die der Band eine Menge positive Resonanz auf Ihr im Mai 2013 erschienenes Debütalbum "Leave Your Love At The Door" einbrachten.
Wir dürfen also gespannt sein.