Jeffrey Halford & the Healers
Do., 20.10.22 | 20.00h |
Happy Billard * Kurt-A.-Körber-Chaussee 73* 21033 HH-Bergedorf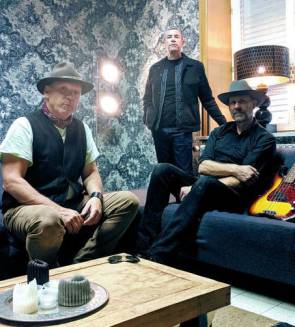 Als Halford 18 Jahre alt wurde, hatten er und seine Familie Kalifornien mehrmals durchquert. Geleitet von seinem Vater Colin, der sich eine bessere Arbeit und ein besseres Leben wünschte, lebte die Familie in vielen verschiedenen Teilen des Staates. Obwohl sich Halfords Umgebung ständig änderte, gab es eine Sache, die gleich blieb: Surfen. "Shooting the Tube" blieb das einzige, was ihn zu der Zeit bei Verstand hielt und als Flucht vor seinen realen Problemen diente. Halfords Eltern hatten ihre Tiefpunkte, darunter der Kampf gegen den Alkohol, Hausräumungen, Autounfälle und Zeiten, in denen Ray Charles den Zustand als "kaputt" bezeichnet hätte. Umgeben von den besten AM-Radios hörte Halford einiges an LAs bester Musik; Wolfman Jack legte alles von Curtis Mayfield und Marvin Gaye bis zu Howlin Wolf und The Doors auf. Und Halford nahm das Beste aus amerikanischer Musik und Poesie in sich auf.
Aufgrund von Problemen zu Hause und einigen geringfügigen Konflikten mit dem Gesetz hatte Halford nach Angaben seines Schulleiters die geringste Anwesenheit in seiner Abitur-Klasse. Als nächstes bekam er jedoch eine sonnengebräunte, resonante Nylonsaitengitarre von seinem Vater, und die Dinge begannen sich zum Besseren zu wenden.
Nach der Hochschule schrieb sich Halford in der Architekturschule in San Francisco ein. In den Straßen der Stadt kam er mit dem Talent und dem Geist der Straßenmusiker in Berührung. Er war begeistert und schloss sich den Straßenlegenden von San Francisco Harry Spider und Jimmy Fan an, die an der Ecke von Market und Powell spielten. Über ein Jahr lang spielte Halford seine Gitarren auf der Straße in Chinatown und am Union Square vor Publikum , bis die Polizei ihn vertrieb. Seine Street Gigs brachten ihn dazu, mit den Oakland Blues-Größen Sonny Lane, Mississippi Johnny Waters und JJ Malone zu spielen. Später gründete Halford die beliebte Rockabilly-Band The Snappers, die vier Jahre lang mit Künstlern wie den Blasters und den Beat Farmers in der Bay Area spielte.
In den letzten 25 Jahren tourte Halford mit seiner Band The Healers durch das Land. Sie spielten Shows mit einigen der renommiertesten Künstlern und Songwritern und er wurde von Taj Mahal, Los Lobos, George Thorogood, Gregg Allman, Etta James, John Hammond und den Texas-Größen Augie Meyers, Guy Clark und Robert Earl Keen beeinflusst. Seine neueste CD ' Rainmaker knüpft an das von der Kritik hochgelobte Album 'Broken Chord an und belegt derzeit Platz 12 der Euro-Americana Charts * und es steigt noch weiter. Seine ursprünglichen Roots RocknRoll-Songs brennen sich in die einzigartige amerikanische Landschaft.
Reservierung: email an uns: CLub am Donnerstag