Rob Ryan Roadshow
Do., 31.10.13 | 20.30h |
Happy Billard - Kurt-A.-Körber-Chaussee 73, Hof hinten 1. Stock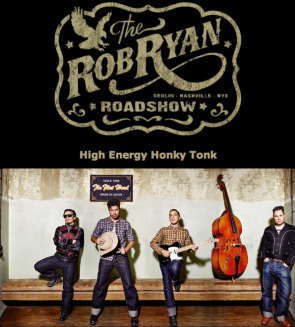 The Rob Ryan Roadshow nennt Ihren Sound Cocktail aus Roadhouse Rock, Rockabilly und Oldschool Country selbst "High Energy Honky Tonk".
Die Band um den amerikanischen Ausnahmekünstler Robert Ryan hat innerhalb von gut 2 Jahren mit über 120 Shows - unter anderem als Tour Support für The Boss Hoss und Imelda May - bereits in ganz Europa viele tausende Menschen begeistert. Rob Ryan macht vor keiner Spielart der Country Musik halt, lässt die Gitarre im Texmex Sound bei "Pistolero" erklingen und erinnert stark an die glorreichen SHADOWS, und rockt auch gerne mal mit S.O.L das Haus.
Auf der zweiten Platte "Let's Get This Show On The Road" defilieren BR-549, die MAVERICKS oder auch die DERAILERS am geistigen Auge vorbei, wenn Rob Heaven Yes, Hell No intoniert. Your Song könnte aus grauer STONES Vorzeit stammen, und wenn bei Halleluja, während die Fiedel glüht, oder bei Bone Pick selbst dem notorischsten Bewegungsmuffel nicht im Takt das Bein zuckt, dem ist wahrlich nicht mehr zu helfen.