Chris Grey & The BlueSpand (DK)
Do., 09.06.22 | 20.00h |
HAppy Billard * Kurt-A.-Körber Chaussee 73 *21033 HH-Bergedorf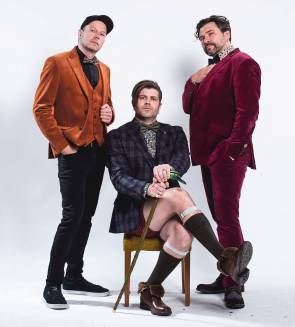 Chris Gray & The BlueSpand
Endlich auch auf Tournee in Deutschland! Chris Grey & The Bluesband sind ein echtes Social Media Phänomen! Die Band ist mit ihrem Live-Video "Grab'em by the Elbow" auf Facebook viral geworden .Das dänische Trio überzeugt mit einzigartiger Musik seine Follower auf der ganzen Welt! Ihre Videos begeistern im Netz bereits mehrere Millionen. Nun wollen die Vollblutmusiker ihre Fans auch höchstpersönlich und live von sich überzeugen. Egal ob Elektronisch oder Unplugged, Chris Grey & The Bluespand versprechen eine Show, die keiner je vergessen wird!
2011 haben sich die Wege der 3 Musiker zum erstenmmal gekreuzt und seitdem bereichern sie die dänische Bluesscene. 2012 gewann die Band "The Danish Blues Challenge" und ist seit dem in ganz Europa unterwegs
Eine Fusion aus Blues, Soul, Funk und Rhythm n Blues verleiht der Band einen besonderen abwechslungsreichen Klang. Diese kreative Mischung hat in der CD "Lotta Love" ihren Höhepunkt gefunden und erregte die Aufmerksamkeit der Musikindustrie sowie von Radiosendern in der ganzen Welt z.B. USA, Europa, Kanada und Australien. Die Band hat viel Live-Erfahrung aus ganz Europa, wo sie mehrere haben Touren unter dem Gürtel. 2018 waren Chris Gray & The BlueSpand Headliner bei North City Jazz n Blues Mitrovica (Kosovo), Blues Fest Gdynia (Polen), R'n'B-Festival Ropaži (Lettland), Jazz n Blues Meeting Dinslaken (Deutschland) sowie Skopje MK Bluesfestival (Mazedonien) und viele mehr.
Chris Grey: Lead-Gesang/Gitarre,
Kasper Lauersen: Bass/Gesang,
Lars von TrommenStick: Schlagzeug/Gesang
Tickets:Theaterkasse Schumacher