Maria in the Shower / David Blair (CDN)
Do., 21.11.13 | 20.30h |
Happy Billard - Kurt-A.-Körber-Chaussee 73, Hof mitte 1. Stock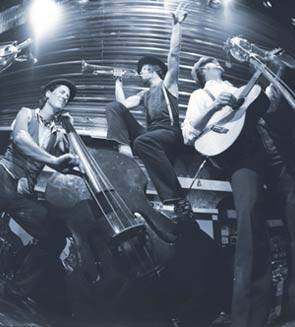 Maria in the Shower ist eine Band mit Zigeunerflair und einzigartigem Unterhaltungsfaktor. Mit ihrer Mischung aus Varieté, Kabarett, Punkrock und Folk bilden sie eine der führenden Gruppen des Kanadischen New Folk Sound.
Die Band hat sich der Aufgabe verschrieben, alte Musik neu erstrahlen zu lassen, wobei sie Lieder schreiben und darbieten, die sowohl traditionell als auch modern klingen. Gleichzeitig humorvoll und apokalyptisch, mit einem Höchstmaß an musikalischer Tiefe, haben sie das Unterhaltungspotenzial eines Wanderzirkus.
Ihre Musik verbindet traditionellen amerikanischen Folk und Jazz, lateinamerikanische Rhythmen und feinste Lyrik. Ihre Texte ergründen die wesentlichen Themen des menschlichen Lebens. Ihre Show ist ein Mix aus purer Energie und sehr viel Spaß, bei der es schwer fällt, sitzen zu bleiben. Die Kombination von Akkordeon, Blasinstrumenten und Kontrabass klingt wie eine Synthese aus Mumford & Sons und The Clash.
David Blair
Der Künstler, Singer/Songwriter und Akustik-Gitarrist David Blair ist bekannt für sein immerwährendes Lächeln, seine Geschichten und seine energiegeladenen Freestyle-Bewegungen. Seine ausdrucksstarke und wandelbare Stimme verfügt über ein hohes Falsett. Seinen Songs erzählen über Enttäuschungen, gescheiterte Beziehungen und die Suche nach Inspirationen im täglichen Leben.
David Blair war schon im Vorprogramm der weltberühmten Band Nickelback zu hören. Bereits 3-mal wurde er (welche Ehre) für den US-Amerikanischen Billboard Songwriter Award nominiert. Seine Tourneen führten ihn bisher über den gesamten nordamerikanischen Kontinent.