La Grange [I]
feat. Claus 'Dixi' Diercks
Do., 07.12.17 | 20.00h |
CaD im Happy Billard * Kurt-A.-Körber-Chaussee 73 * 21033 HH- Bergedorf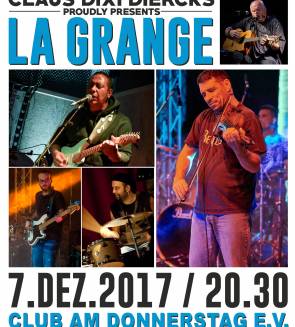 Soviel schon mal vorweg - das wird definitiv ein richtig schöner Bluesabend.

Claus 'Dixi' Dirks, Urgestein der norddeutschen Bluesszene trifft auf La Grange, eine italienische Blues-Formation - bestehend aus exzellenten Musikern um den Gitarristen Fabio Galliardo und den Geiger Edo Notarloberti.

Basierend auf der langjährigen Zusammenarbeit und gemeinsamen Auftritten bei verschiedenen Konzerten und Festivals verspricht das ein Abend der Extraklasse zu werden. Richtet euren Augenmerk besonders auf die außergewöhnliche Instrumentierung!
Wer mehr sehen - und vor allen Dingen hören will, findet einen kleinen Vorgeschmack hier:
https://www.youtube.com/watch?v=FtZ5XNX-Fr8


CLAUS 'DIXI' DIERCKS - Vocals, Harp, Guitar
ist seit den 70-er Jahren fester Bestandteil der norddeutschen Bluesszene - als Sänger, Mundharmonika-Spieler und Gitarrist. Nach eigenen Bands (u. a. Dixi's Bluesfreaks, Croaker, Bluespackage) tritt er seit einigen Jahren solo und in verschiedenen Bluesformationen auf - lokal und international. Er ist einer der renommiertesten Harp Spieler der Szene.
FABIO GAGLIARDO - Guitar
born '74 knows by chance a great harmonica Player, named Claus Diercks who gives him the first opportunity at a young age to express himself live on stage playing blues or the music Fabio loves. Since then, he has been living with his current band, La Grange, and has played in various blues formations as a guitar player and voice in Italy and not only sharing large stages with internationally renowned Italian and international artists such as Nathaniel Peterson, Shawn Jones, Mario Insenga, Stef Burns, Claus Diercks and many more.
EDO NOTARLOBERTI - Violin
considered one of the leading and virtuoso specialists of the violin, a multi-faceted musician who ranges fromdark music to country-blues, plays various records with ASHRAM, CORDE OBLIQUE and finally makes his first album"SILENT PRAYERS". The blues encounter takes place in the historic Parthenopeo Blues Stuff group and then continues with the "La Grange"

LUCA DI CAPRIO - Bass
is a young bass player with a great groove and great taste, always busy on a great tour, Shanna Watertown, NikiBuzz and Grange are just some of the names he has had the pleasure of accompanying his big notes .
GIANPAOLO FEOLA - Drums
an energetic and explosive drummer so much that Carvin Jones declared "has brought tremendous energyand excitement to Carvin's show" (has brought tremendous energy and excitement to Carvin's show); Has played with manyfamous bands all over Italy and is characterized by its full versatility that allows it to range in all musical ranges ... but it is theblues flowing in the veins !!! Since 2006 he has been the invaluable drummer of Carvin Jones with whom he plays in the mostimportant blues international festivals: the "Blues Festival of Béjar" in Spain, the "Warrenpoint Blues Festival" in Ireland, the "Gouvy Jazz and Blues Festival Ferme Madelonne" In Belgium, Nix Blues Festival in Holland, Santa Maria Blues in Portugal, Magic Blues and Blues'n'jazz Festival in Rapperswil, Switzerland. He collaborated with Carvin Jones, Wishbone Ash, Nathan Peterson, Ten Years After, Walter Trout, Johnny Winter. In March 2008 Carvin Jones Band played in America, where he recorded in Phoenix (Arizona) the last Disco of the famous Texan guitarist and in July 2011 he plays in Iraq and Kuwait for US military troops and is named Italian Ambassador for blues music and awarded by General Wilson. In August 2013 he recorded in Spain the record of Carvin Jones "Victory is mine".
Also - nichts wie hin in den Club am Donnerstag. Wir freuen uns auf euch!