Red Beard [E]
Do., 13.12.18 | 20.30h |
Happy Billard * Kurt-A.-Körber-Chaussee 73 *21033 Hamburg Bergedorf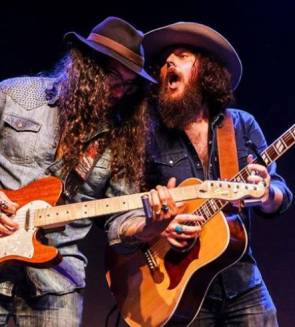 Read Beard
Hinter Read Beard steht der Musiker Jaime Jiménez Fleitas von den kanarischen Inseln. Die Musiker verwenden hauptsächlich Stilelemente aus Country-Rock und Southern-Rock. aber auch aus Blues und ein wenig aus Folk. Von diesem Punkt aus spreizen die Read Beard eine imaginäre Welt die in den Magen geht. Wie einst Johnny Cash, sah Jesus im Feuer während er den Teufel traf. Schnörkelloser, durchdringender und hypnotischer Sound ist das Genre ihrer drei Alben: "Nobody's Gonna Bring Me Down Vol. 1 und 2" und "All or Nothin'". Ihr aktuelles Album "Dakota" orientiert sich mehr am Southern-Rock.
Red Beard, veröffentlichen ihr viertes Album, "Dakota". Die Band macht ihren Sound härter, mehr zum Rock hin, als in ihren ersten beiden Alben (Country und Western). Ihre ersten drei Alben, "Nobody's Gonna Bring Me Down I and II" and "All or Nothin'" markieren eine erste bemerkenswerte Stufe in der Geschichte der Band.
Diese neue Arbeit weicht nicht zu viel von den vorherigen Alben ab, dennoch ist es wahrnehmbar nach dem ersten hören. Da sind Echos zu "The Allman Brothers Band" und zu allem was dem weiten Feld der Americana-Musik zugehört. "Wir wollten das dieses Album Elemente von den vorherigen Alben enthält, wie Country und Western, trotzdem wollten wir weiter in Richtung Southern-Rock und klassischen Rock, wie man es im Song Something Real' hören kann, erklärt Jaime Jiménez. In diesem Jahr will die Band durch die Staaten und Europa touren.