Lorin Walker Madsen & the Hustlers [USA]
Do., 22.03.18 | 20.30h |
Happy Billard * Kurt-A.-Körber-Chaussee 73 *21033 Hamburg Bergedorf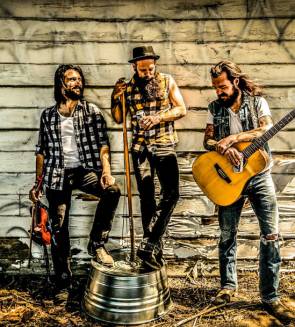 High Desert – Honky Punk – Roots Music
Diese Band lebt einfach dafür "on the road" also auf Tour zu sein. Aufgewachsen in Salt Lake City wusste Lorin schon früh dass er seine Musik mit so vielen Menschen wie möglich teilen wollte. Im Alter von 19 jahren kaufte er einen Bus, begann mit dem Touren und hat eigentlich seitdem nicht aufgehört. Angetrieben von einem starken Willen, groben vocals und ehrlichen Lyriks bringt Madsen seine auf traditionelle Musik basierende Outlaw und Country Musik unter die leute. Seine Band und er sind so enthusiastisch und energetisch dass es nicht möglich ist beim Zuhören still zu sitzen bzw stehen.
www.lorinwalkermadsenmusic.com
Salt Lake City is not known for its thriving music scene or historic venues. There is no neon soaked strip, and booze is nearly illegal on Sunday. Before dismissing it entirely, most won't think past the city's reputation for harsh winters, unique liquor laws, and religious overreach. However, if the Zion Curtain is pulled back, one will find a musical community beaming with diversity and talent. Venues cover the city and live music is not hard to find every night of the week. There are bands, there are solo artists, and there is Lorin Walker Madsen; he has built his life out of music.
After touring with several bands and projects for over the last decade, Madsen found his niche as a solo artist, which truly allowed him to shape his sound. Blending a road-tough attitude into his own brand of high desert honky punk – gritty vocals and honest lyrics laid over his take on traditional and outlaw country music, LWM lives for playing music on the road. Whether it be with his full band of Hustlers backing him up, or solo with nothing but a kick drum, a guitar, and Madsen's signature grit, the chances are good that he's headed to a city, town, or country near you very soon.
With two self released full length studio albums already, and performances spanning across the United States into Canada, and his first European tour scheduled for March 2018, Lorin Walker Madsen and The Hustlers continue to make strides solidifying their fan base with bills on various festivals, regularly supporting many of the artists that Madsen grew up idolizing.
– "2017 is shaping up to be another great year. I am looking forward to the release of a new EP in late spring or early summer, and plan on following it up with another self-engineered full-length album that I will head into start working on around the holidays. In the meantime I will be headed back to many of our favorite festivals around the US, as well as plenty of other touring coast to coast, and looking forward to seeing & playing plenty of our old favorite beer joints and venues, as well as hopefully getting a chance to branch off into lots of new markets in 2017-2018 around the world."
– Website: http://www.lorinwalkermadsenmusic.com