The Trongone Band [USA]
Do., 29.11.18 | 20.30h |
Happy Billard * Kurt-A.-Körber-Chaussee 73 *21033 Hamburg Bergedorf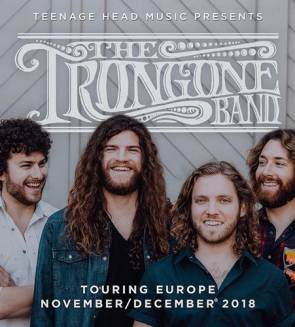 The Trongone Band
Aus der Nähe von Richmond (Virginia) stammend macht die Band gerade eine Promotion-Tour für ihr Debüt-Album "Keys to the House", veröffentlicht bei Harmonized Records. Laut Pate Magazin zum ausflippen. The Trongone Band geht eigene Wege und führt Southern Rock 'n' Roll mit Americana Sound zusammen.
Gegründet von den Brüdern Andrew, Johnny Trongone und dem Vater John Senior am Bass, ist die Trongone Band gewachsen von einer Familien-Kombo zu einer Tour-Band durch die Aufnahme des Keyboarders Ben "Wolf" White und dem Bassisten Todd Harrington. In den Worten von Live for Live Music "das Quartett kam zusammen um einen familiären Old-School Klang zu kreieren der an die Allan Brüder erinnert und doch noch frisch und Ausdrucksvoll bleibt. Man findet aber auch Funk- und Blues-Elemente wieder.
In den Wäldern von Richmond gingen sie in das Montrose Recording Studio um dort über eines der letzten sieben Flickinger-Mischpulten ihre Debüt-Album aufzunehmen. Flickinger-Mischpulte waren in den `60iger und '70iger Jahren bekannt für ihren warmen Sound der auch in "Keys to the House" floss.
Im Sommer und Herbst 2017 tourten sie als Support-Band auf verschiedenen Festivals für Reckless Kelly, American Aquarium und Cris Jacobs.