The Billy Walton Band [USA]
Do., 09.02.17 | 20.30h |
Happy Billard * Kurt A. Körber Chaussee 73 * 21033 HH-Bergedorf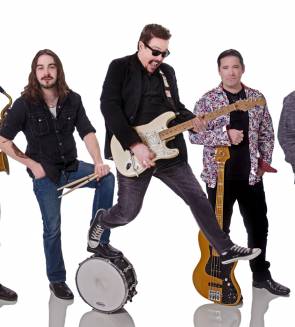 Billy Walton hat u.a. mit Southside Johnny und Little Steven gespielt, mit Jon Bon Jovi gejammt und zählt mittlerweile zu den großen Namen in New Jersey, USA.

Billy (Baujahr '79) groovt und rockt, swingt und shuffelt was das Zeug hält. Er gehört der jüngeren Blues-Generation an, kennt die Wurzeln des Blues bestens, hat aber auch den Mut Neues zu erkunden und den Blues so aufmischen, dass er mehr zum Tanzen animiert, als zum Trübsal blasen. Passend zum Frühling eben und für gute Laune. So wagt er sich schon mal deutlich in Richtung New Jersey Rock vor und erinnert bisweilen ein wenig an Bruce Springsteen, um dann doch wieder zum Blues zurückzukehren, aber immer mit Power und trotzdem viel Gefühl.Viele Jahre verbrachte Billy seine Zeit damit, seine Fähigkeiten auf diese Art zu schärfen und seine eigene Bühnenshow zu entwickeln, bis er sich entschied, selbst ins Rampenlicht auf der Bühnenmitte zu treten, und gründete die Billy Walton Band. Die Band hatte ihren Fokus in Europa von Anfang an auf Großbritannien gerichtet, wo sie seit 2007 mit 16 Tourneen sich einen guten Namen in der fruchtbaren, aber auch hart umkämpften britischen Blues-Rock Szene machten. 2010 bekam Billy das Angebot, sich dem Meister des Asbury Park-Sounds, Southside Johnny & the Asbury Jukes anzuschließen. Den größten Teil der Jahre 2010 und 2011 reiste Billy mit den Jukes. Als ein Mitglied bei den Jukes bekam Billy die Möglichkeit, auch mit Jon Bon Jovi zu jammen. Gute Dinge sind der Zwischenzeit mit der Billy Walton Band passiert. In Großbritannien hat sich mit einem Agenten und einem neuen Plattenvertrag viel verändert. Daraufhin starteten sie voll durch, die erste Veröffentlichung beim neuen Label erschien im April 2012,
welche von einer drei wöchigen Großbritannien-Tour begleitet wurde. Für dieses neue Album der Band wurde Richie Taz als Gast am Saxofon verpflichtet. Es ist Jersey Sound, da gehört ein Saxofon einfach dazu. Man kann sagen, dass Bruce Springsteen ein Singer-Songwriter ist oder der Frontmann einer Old-School Rock'n'Soul Band. Southside Johnny ist als Soul-Sänger der Frontmann einer Old-School Rock'n'Soul Band. Billy Walton ist ein Guitar-Hero und der Frontmann einer Old-School Rock'n'Soul Band. Das Saxofon ist das Verbindungsstück dabei, so etwas wie der rote Faden. Weil wir die donnernden Explosionen von Clarence Clemons von der E-Street-Band nicht mehr hören können (der 1,96m Hühne starb 2011), kann man stattdessen jetzt die "Schreie" von Richie Taz genießen. So sollte man sich nur den Song "The Night the Deal Went Down" anhören, um die betörenden Klänge von Gitarre und Saxophon zwischen Billy und Taz im vollen Umfang zu genießen. Wie ein Frage und Antwortspiel, ein Anruf und ein Rückruf, das Kreischen der Gitarre und das herzzerreißende "Schreien" des Saxophons, fast wie eine Wettstreit, ein ständiges überbieten, aber auch ein geben und nehmen. Langzeitbassist William Paris und der exzellente Drummer Johnny D'Angelo haben sich zu einer perfekten Rhythmustruppe zusammen gefunden und runden das Line-Up der Band ab.