Modern Earl (USA)
Do., 14.02.13 | 20.30h |
Happy Billard - Kurt-A.-Körber-Chaussee 73, Hof hinten 1. Stock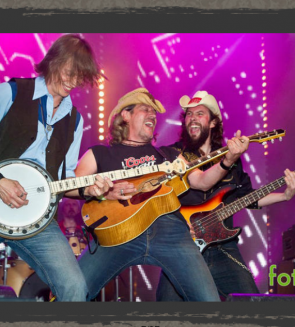 Modern Earl bringen die Südstaaten nach Europa! Mit ihrem Southern Country Rock vereinen sie den Twang des Country, das raue, leidenschaftliche Feeling des Blues, das Feuer des Bluegrass und die Power des Südstaatenrock zu einem unverwechselbaren Sound. Ob sie vor tausenden von Fans auf einer Festivalbühne spielen oder in der Bar um die Ecke ist reine Nebensache – sobald die Jungs eine Bühne betreten, wird das Publikum von der unglaublichen Energie und Spielfreude der vier Ausnahmemusiker aus New York , Tennessee und Texas schier überwältigt.
Die Band hat nicht nur sichtlich Spaß daran, Traditionals und Klassiker der Rockgeschichte neu zu interpretieren, sondern stellt ihre Originalität auch mit ihren eingängigen und mitreißenden Eigenkompositionen unter Beweis. In seinen Songs beschreibt Frontmann Christopher "Earl" Hudson die amerikanische Kultur mit einem wachen Blick und einer gehörigen Portion Ironie. Die Texte handeln von den Erlebnissen der Band auf Tour, von Frauen und Alkohol, von Hillbillies und selbsternannten Predigern, sogar die Zubereitung des perfekten Fried Chicken kann man lernen – "the drinking man's thinking music" eben.
Modern Earl standen bisher in vierzehn europäischen Ländern auf der Bühne und spielten unter anderem beim Mirande Country Festival in Frankreich, beim Silkeborg Music Festival in Dänemark, beim Bauska Country Music Festival in Lettland, beim Cerexehe Musik Festival in Belgien, beim Americana International Festival in England und bei den Harley Days in Hamburg und Berlin. Aufgetreten sind sie mit Künstlern wie Carlene Carter, Simple Minds, Wanda Jackson, Dale Watson, Zucchero, Wendel Adkins, Two Tons of Steel und Lonestar.
Das Jahr 2012 stand ganz unter dem Motto Road Trippin', denn das ist nicht nur der Titel ihres brandneuen Videos, Modern Earl werden auch unermüdlich mit ihrem aktuellen Album Inlaws & Outlaws unterwegs sein. Diese Band solltet ihr euch auf gar keinen Fall entgehen lassen. Love, Peace and Chickengrease!
http://www.facebook.com/pages/Modern-Earl/190494414349807
http://www.youtube.com/user/modernearlmusic?feature=mhee