KRISSY MATTHEWS Band
Do., 19.08.21 | 20.00h |
Happy Billard * Kurt-A.-Körber-Chaussee 73 *21033 Hamburg Bergedorf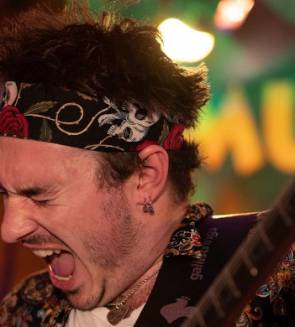 Wenn alles gut geht das erste Konzert nach der Coronapause für den CaD. Drückt die Daumen, dass es klappt.

Bitte anmelden unter :
info(at)clubamdonnerstag.com
mit Name, Adresse und TelefonNummer Konzert unter Corona Regeln Maske, etc.....!maximal 50 Zuhörer, nur Sitzplätze und nicht zuletzt wegen der Sperrstunde fangen wir pünktlich um 20:00 Uhr an

Namen wie Jimi Hendrix, Muddy Waters, Eric Clapton, Jeff Beck, Johnny Winter, Rory Gallagher oder auch Pete Townsend fallen, wenn von dem erst 29 Jahre alten Krissy Matthews die Rede ist. Sie alle sollen Pate für den Gitarren-Stil des jungen Ausnahme Gitarristen gestanden haben und in der Tat ist das Spiel von Matthews alles andere als eindimensional. Mal klingt er frisch und rau, dann wieder schräg und wild. Schon als Dreijähriger stand er zum ersten Mal auf der Bühne, im Alter von acht Jahren bekam er seine erste Gitarre und als Elfjähriger wurde er vom Blues erfasst. Ein Jahr später traf er John Mayall bei einem Auftritt in Norwegen, und der Gottvater des weißen Blues zögerte nicht lange und nahm den Zwölfjährigen mit auf die Bühne. Musikerkollegen, Kritiker sowie Presse sind voll des Lobes; "This guy is the real deal" (Beth Hart), "Oh boy, this kid can play" (Hubert Sumlin).



1995, 3 years old and his father invited him on stage.
This is when the Krissy Matthews (British/Norwegian) story started…Now 28, he has gained a reputation as being one of the most unique guitarists the 21st century has seen.Began at the age of 8. Spent 2 years learning Hank Marvin songs. At the age of 11, discovered the blues.Summer 2004, sat in with John Mayall. The opening act was Peter Green.July 2005, made his first studio record. This was entitled Blues Boy and released on Via Music.March 2006, was invited to meet BB King where he received advice on the industry.May 2007, played 2 songs live with Jeff Healey. The last person to share the stage with Mr Healey in the UK.May 2008, quit school and became a full time professional musician at the age of 16.Summer 2009, Marshall asked him to perform for a launch party at Ronnie Scott's.An invite to record a live session for BBC Radio 2 was a result of this.Spent the next years continuously touring. This included performing at Museumsplatz, Bonn, Germany on the bill together with Tedeschi Trucks Band and Gregg Allman. One year later, Krissy opened up for TOTO in Cologne Tanzbrunnen!January 2013, recorded a studio album entitled "Scenes from A Moving Window".The poet and lyricist Pete Brown (Cream) co-wrote most of the album.June 2014, was invited to play at the legendary Loreley Classic Rock Festival, alongside Joe Bonamassa and Joe Satriani.September 2015, Hamburg Blues Band invited Krissy to join the band.He is a featured guest each night along side other great artists such as Maggie Bell, Chris Farlowe and Arthur Brown. April 2017, released his first live album entitled "Live at Freak Valley" to critical acclaim.July 2018, Krissy was part of Herzberg Blues All Stars. They headlined the legendary Burg Herzberg festival in front of 20,000 people.The line up included Clem Clempson, Mark Clarke, Arthur Brown, Maggie Bell, Chris Farlowe and Hamburg Blues Band.March 21, 2019, Krissy and his band will perform at the famous Rockpalast Festival in Bonn, Germany.March 22, 2019, Krissy's new studio album "Monster In Me" will be released worldwide via MIG Music.
In amongst all this, Krissy has paid his dues performing over 1000 concerts in many countries including U.K, Scandinavia, Benelux, Eastern Europe, Germany, Italy, France, Portugal, Spain, Switzerland and China.
He has shared the stage with artists such as Toto, Gregg Allman, Tedeschi Trucks Band, Joe Satriani, Los Lobos and Joe Bonamassa.
Continues to share touring duties between Hamburg Blues Band and his solo career.