Billie Page [USA] cancelled !
( Little Billie ) abgesagt!
Do., 27.08.20 | 20.30h |
Happy Billard * Kurt-A.-Körber-Chaussee 73 *21033 Hamburg Bergedorf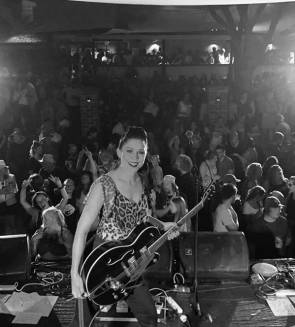 Tour ist abgesagt !
Gritty blues/ rock singer-songwriter Billie Page takes no prisoners and her high energy live performances bring a powerful explosion of vibing rock n roll!
Originally established as 'Little Billie' in 2015, Billie Page has evolved from her traditional 50's Chicago blues and rockabilly roots by mixing it up with an original electric twist, to produce a high-energy blues, rock and rockabilly .
Billie continues to delve deeper into her new, heavier blues rock vibe with her upcoming new release 'Time & Time Again'… Stay tuned for release date announcements! Billie Page performs live with her killer 4-piece band, featuring gritty blues lead guitar, punchy double bass, and hard-hitting drums. This no holes barred collective of next level musicians are undeniably electrifying and teamed with Billie's mesmerizing stage presence and relentlessly powerful, yet (at times) cripplingly vulnerable vocals, this band is a force to reckoned with! Billie Page has performed across Australia at a multitude of blues, rock, and mainstream festivals, and recently toured the Mediterranean in with Joe Bonamassa and Peter Frampton.