Fakawi [D]
Do., 17.09.15 | 20.30h |
Happy Billard - Kurt-A.-Körber-Chaussee 73, 21033 HH-Bergedorf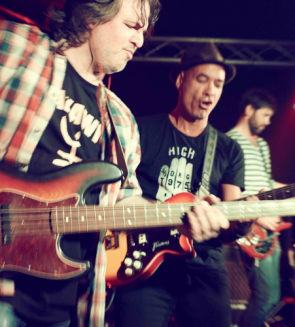 NEW ZEALAND FLAVOURED ROCKPOP
Zwar ist die Band The Fakawi hierzulande beheimatet, trotz alledem bringt sie eine gehörige Portion "Maori-Spirit" mit. Der Grund dafür ist der neuseeländische Sänger Craig Te Paa, der einst in Auckland - auf der anderen Seite unseres Planeten - das Licht der Welt erblickte und der Liebe wegen in Buxtehude bei Hamburg eine neue Heimat fand.
Gemeinsam mit seinen Bandkollegen entstand unter seinem Einfluss eine wirklich außergewöhnliche Band. New Zealand flavoured Rockpop nennen die vier Protagonisten ihr musikalisches Schaffen, das nicht nur dadurch besticht, dass es eine Vielzahl an Einflüssen zu einem interessanten, oft abgefahrenen, aber stets homogenen Style verschmelzen lässt. Die Band tut dies stets höchst originell.
Zeigte die Band 2012 mit der Veröffentlichung ihres Debütalbums und dem darauf veröffentlichten Indi-Hit "Cowbell" bereits ihr enormes Potenzial, so beweist sie mit ihrem zweiten Longplayer "The DK-Sessions" (2014) endgültig, was in ihr steckt. Ein Höchstmaß an Kreativität, ohne je die eingängige Leichtigkeit zu verlieren. Lebensfreude pur! Live schlichtweg großartig!
Aktuell steht The FAKAWI im Finale des OXMOX Bandwettbewerbs, das am 03. September 2015 in der Markthalle ausgetragen wird, bei dem die Band, bedingt durch die Tatsache, dass sie sowohl in ihrem Viertelfinale als auch im Halbfinale den ersten Platz belegte, zum ganz heißen Favoritenkreis gezählt werden darf.
Tickets:
:https://www.tk-schumacher.de/events/club-am-donnerstag/club-am-donnerstag