Brooks & Temple (USA)
Do., 28.02.13 | 21.00h |
happy Billard - Kurt-A.-Körber-Chaussee 73, Hof hinten 1. Stock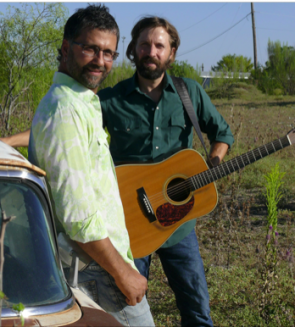 COLIN BROOKS dürfte den vielen bereits bekannt sein als – ja, man muss es so sagen – ex-Frontmann der Band Of Heathens. Brooks hatte bekanntlich zum Ende des Jahres 2011 das Quintett aus Austin, Texas verlassen und bastelt nun an der Fortsetzung seiner Solokarriere . Die neue CD ist sehr puristisch produziert, nur Gitarre und Dobro sind neben Colin's Stimme zu hören, und dennoch oder vielleicht gerade deshalb machen die Songs deutlich, dass sie nicht die großen Band-Arrangements benötigen, um auf den Hörer zu wirken.
Dennoch wird Colin Brooks keine Soloshow präsentieren – er wird begleitet vom OWEN TEMPLE, einem weiteren großartigen Singer/Songwriter aus Austin, Texas. Seit mehr als einer Dekade gehört er fest zum Inner Circle der dortigen Szene und darüberhinaus. Er veröffentlicht regelmäßig eigene Platten und hat jüngst auch erste größere Erfolge bei uns in Europa zu verzeichnen gehabt. So gelang ihm in 2009 mit "Dollars And Dimes" sogar ein No.1-Erfolg in der Euro Americana Charts, mit seiner eher nachdenklichen bis düsteren Betrachtungsweise des augenblicklichen Zustands der amerikanischen Gesellschaft (und der des Südwestens insbesondere) trifft er den Nerv des nach Tiefgang und Authenzität in der Americana Music suchenden Publikums sowieso perfekt.
COLIN BROOKS und OWEN TEMPLE werden den Abend gemeinsam auf der Bühne bestreiten wie schon Todd Thibaud mit Tom Gillam oder mit Joseph Parsons, indem sie abwechselnd ihre eigenen Stücke präsentieren und vom Duo-Partner begleitet werden. Ein unterhaltsames und sehr abwechslungsreiches Programm ist garantiert!
http://www.myspace.com/colinbrooks