Elles Bailey [GB]
Do., 10.10.19 | 20.30h |
Happy Billard * Kurt-A.-Körber-Chaussee 73* 21033 HH- Bergedorf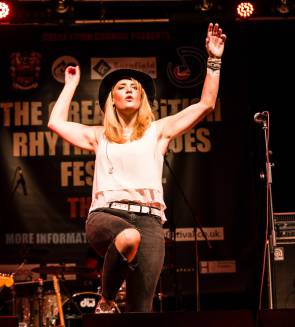 They say you get a lifetime to write your first album & the blink of an eye to make your second. Elles Bailey wins either way, which is why she's ready to follow the widespread success of Wildfire with the stunningly mature and highly personal synopsis of a year that changed her life in forthcoming album 'Road I Call Home'.
Back in September 2017, Wildfire broke down barriers to win rapturous praise right across the music media landscape. "Every genre," says Bailey with a smile. "That was such a surprise. The title track, written with her band guitarist Joe Wilkins, also had Bailey racing from Spotify novice to nearly one million streams, while the album itself is close to two million, and still the playlists come in for it.
Now, the great news for all of Bailey's ever-expanding army of admirers is that she is all set with her follow-up statement. Road I Call Home. Bailey made the sophomore record chiefly at Nashville's Sound Emporium, with Brad Nowell sharing production duties with Steve Blackmon, but also cut two tunes for it with her own touring band at Mono Valley in Wales, including first single Medicine Man. It's a remarkable companion to Wildfire that retains all of the fire of the debut set, but adds new maturity, perspective and downright soulfulness.
"Wildfire was written over five years," says Elles, "Road I call Home was written over one. It tells the story of touring Wildfire, and how my life has changed since. I feel it delves deeper, and deals with loss, love, anger, determination and life on the road, with more than 200 gigs under my belt and many miles travelled." Like its chart-topping predecessor, Elles' new album features co-writing contributions from high-calibre collaborators, including British hit-making legend and Ivor Novello Award winner Roger Cook, storied Memphis and Nashville giant Bobby Wood, as well as Dan Auerbach (of Akron, Ohio powerhouses The Black Keys) on the infectious 'Little Piece of Heaven'.In 2019, Elles will be back on the road that she really does call home. When she arrives near you, don't think twice, get there. A great evening and a long musical friendship will be waiting.
Tickets: https://www.tk-schumacher.de/events/club-am-donnerstag/club-am-donnerstag