Modern Earl
Do., 03.04.14 | 20.30h |
Happy Billard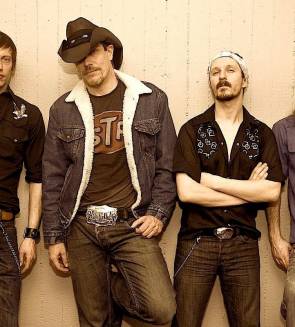 MODERN EARL ist eine energiegeladene Southern Country Rock Band, die keine Kompromisse macht.
Sie haben eine unglaubliche Bühnenpräsenz und spielen bei jedem Konzert eine elektrisierende, energiegeladene Show. Die Chemie auf der Bühne ist umwerfend und die vier Musiker sind absolute Profis. Modern Earl lebt und atmet einen speziellen und authentischen Musikstil – von selbstgeschriebenen Songs zu perfekt interpretierten Rock- und Countryklassikern, melancholischen Bluesballaden und traditioneller Südstaatenmusik.
Als eine der am härtesten arbeitenden Bands der europäischen Festivalszene begeistern Modern Earl ihr Publikum mit rauchigen Harmonien und mächtigem Gitarrensound. Sie fesseln ihre Zuhörer von der ersten bis zur letzten Minute. Mit ihrer mitreißenden Performance und dem einzigartigen Musikstil, der sofort berührt, hinterlassen die Jungs in Clubs von Berlin bis Barcelona bleibenden Eindruck.
Leadsinger Christopher "Earl" Hudson stammt aus einer Musikerfamilie und ist mit den unterschiedlichsten Musikrichtungen aufgewachsen. Er spielte in verschiedenen Ensembles, bis er 2007 Modern Earl gründete. Dazu holte er Ben Hunt (Bass, Gesang) und Ethan Schaffner (E-Gitarre, Lap Steel, Banjo, Gesang) aus Nashville und den Schlagzeuger Markus Christ ins Boot. Seitdem sind die vier non-stop auf Tour und spielten Ende 2013 ihre 500ste Show. Modern Earl hat in dieser Zeit mit den Größen der Branche performt. Unter anderem standen sie mit LeAnne Rimes, ASIA, Zucchero und Paul Young auf einer Bühne.
Der Musikstil von Modern Earl ist beeinflusst von Led Zepp, The Allman Brothers, Merle Haggard und Oasis, Stevie Wonder, den Smiths und den Sex Pistols. Ihre unverfälschten Songs reichen von Bar-Balladen, die von heißen Affären erzählen bis hin zu skurillen Geschichten vom Leben on the road. Earls soulig-rauchige Stimme, sanft und feurig wie ein guter Whiskey, harmoniert perfekt mit Ethan Schaffners rasenden und glühenden Gitarrenriffs. Ben Hunt am Bass und Schlagzeuger Markus Christ geben dem Rocksound der Songs das groovige Finish. Darauf setzen sie die dreistimmigen Harmonien, die Modern Earls Songs so stark machen und Gänsehaut verursachen.
Modern Earl ist eine ausgelassene und authentische Band, die zusammen mit dem Publikum Spaß haben will. Anfang 2014 haben sie ihr viertes Studioalbum Hot Damn veröffentlicht, das genau diesen elektrisierenden Rockcharakter hat. Modern Earl wird das ganze Jahr mit diesem Album in Europa auf Tour sein.