THe Red Phone [NL] fällt aus
Thu, 04.11.21 | 20.00h | 12,- €
Happy Billard * Kurt-A.-Körber-Chaussee 73 *21033 HH Bergedorf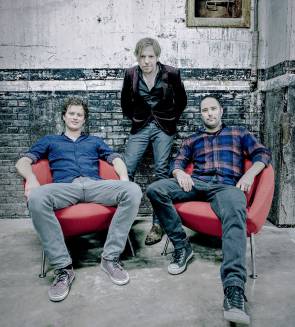 Das niederländische Powertrio THE RED PHONE gehört zu den Ausnahmebands dieser Tage. Sie scheren sich nicht um aktuelle Trends und Modeströmungen, klingen dafür aber frisch und unverbraucht. Sie lieben es roh und direkt, sind aber alle versierte Musiker, die Tricks und Kniffe beherrschen, bei denen manch großem Namen der Atem stocken dürfte. THE RED PHONE setzen da an, wo MC 5, THE STOOGES, THE SONICS, THE SEEDS und BLUE CHEER zwischen 1965 und 1970 herum ihre Fuzzboxen zum Glühen brachten. Garage Rock mit einem Hauch von dem wilderen Bluesrock der 60er ist das Metier der Niederländer, aber durchaus mit frischer Seele. Die WHITE STRIPES und ähnliche Bands sind da gute Vergleiche. Aber bei THE RED PHONE kann man durchaus von einer eigenständigen Band sprechen. Die Songs haben Seele, Melodie, Schmiss, grandiose Riffs, wogende, alles hinforttragende Rhythmen und brodelnde Leadgitarren. Das ist Musik, die aus der Seele spricht. Über ein Jahrzehnt sind die Mannen um Sänger und Gitarrist Sean Walsh schon auf den Bühnen Europas daheim und ziehen uns mit ihrem ungezügelten, eindringlichen Rocksound in ihren Bann. Die Krönung des bisherigen Schaffens wird ihr im Frühjahr 2020 erscheinendes, noch titelloses neues Album sein. Drumherum und das ganze Jahr über werden THE RED PHONE mit Freuden unterwegs sein, Euch ihre wunderbare Musik näherzubringen und alle Fans von echtem Rocksound in Ekstase zu versetzen.
http://www.theredphonemusic.com/
Diese Konzert findet auch unter Corona Bedingungen Mit den 3 Gs: geimpft, genesen, getestet!
Feste Sitzplätze, Abstand und Maske.....
Wir haben nur begrenzte Plätze, deshalb bitte vorher verbindlich anmelden
(und bei Verhinderung bitte bitte absagen!)
mit Namen, Adresse und Telefonnummer unter: