Behind the Eightball
-- End of the Year GIG
Sa., 28.12.02 | 20.30h |
Happy Billard * Kurt-A.-Körber-Chaussee 73 * 21033 Hamburg Bergedorf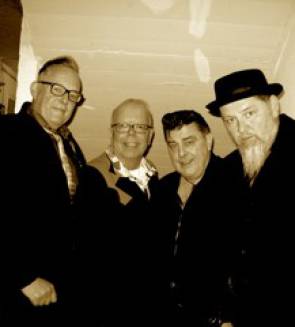 Liebe CaD Freunde
Zum Jahersabschluß
End of the Year GIG.....
Gegründet im Jahr 1999 spielt die Gruppe in der jetzigen Besetzung seit 2008 zusammen und frönt dem Rockabilly und Rock 'n' Roll der 50er Jahre, vermengt mit einem kräftigen Hauch des Rockabilly der frühen 80er Jahre.
Die Hamburger Jungs, bespielen seit Jahren diverse angesagte Live-Clubs (LOGO, KNUST, DOWN TOWN BLUES CLUB, ROCKPALAST SPEICHER, FISCHAUKTIONSHALLE u. m.) und Festival-Bühnen in allen Gefilden Deutschlands.
2003 folgt eine ausgedehnte Portugaltournee, im gleichen Jahr produzieren sie ihre erste Vinyl-Single, ganz in der Tradition der alten Rock 'n' Roll Stars. 2005 erscheint die erste CD "KING FOR A DAY", 2009 erstmalig Auftritte in den Niederlanden und England, u. a. im ausverkauften St. John's Inn in Cornwall.
Mit ihrer Live-Show sorgen die Buben auch beim letzten Rockabilly-Skeptiker für schwingende Beine und heiße Schuhsohlen.
Die seit Anfang 2012 erhältliche CD "ROCKABILLY SPIRIT" ist auch erstmalig über alle gängigen Download-Portale erhältlich.
Zur Zeit arbeiten die Jungs am Material für ihre dritte CD.