Nächstes Konzert:
Crazy Crackers End of the Year Gig
Fri, 27.12.19 | 21.00h | 10€
Happy Billard * Kurt-A.-Körber-Chaussee 73 *21033 Hamburg Bergedorf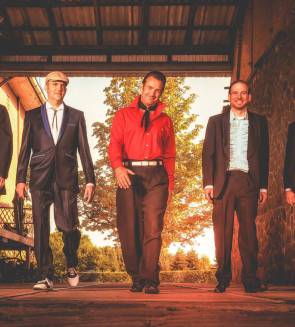 Der traditionelle "End of theYear Gig" der Crackers im Club am Donnerstag steht an ...

Die Crazy Crackers begeistern seit 1990 das Publikum in Hamburg und ganz Deutschland. In der neuen Besetzung, mit Lee am Gesang und Tyll an den Tasten, rockt und rollt die Band mehr denn je durch die 50er und 60er Jahre.
Die Erfahrungen aus mittlerweile 26-jähriger Bandzusammengehörigkeit garantieren beste Unterhaltung und Spaß fürs Publikum. Die perfekte Mischung aus alten Songs und stilechter Bühnendarbietung kommt quer durch die Generationen an. Der gute alte Rock n Roll kennt nun mal keine Grenzen …
Ohne Samples oder Computeranimation, alles echt und handgemacht, zelebrieren die Crazy Crackers den Rock n Roll - die ehrlichste Musik des Universums - auf ihre unnachahmliche Art, und zählen damit zu den angesagtesten Rock n Roll Bands des Nordens.
Rock n Roll als Lebensgefühl und Profession, das sollte sich niemand entgehen lassen. Besuchen Sie einen unserer zahlreichen Auftritte. Sie werden begeistert sein.
Damit wäre dann auch schon fast alles gesagt über die Crazy Crackers und ihre Rock n Roll Mission. Nicht umsonst wurde die Band bereits zur "Kultband" durch Presse und Rundfunk gekürt.
Video